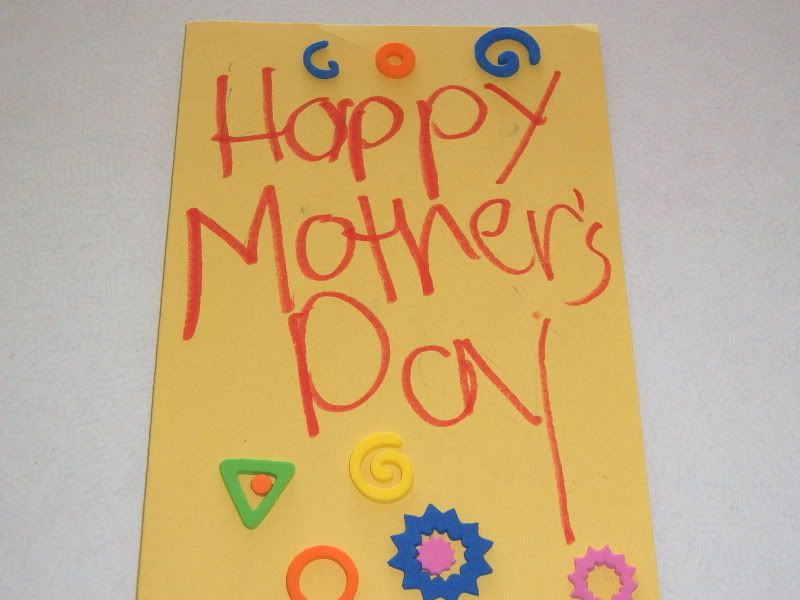 Mother's Day is a day that makes me thankful for my sweet boys. Drew brought home a wrapped present. With it was a note from his aide that he was supposed to tell me to wait until Mother's Day to open it. On Sunday morning, I discovered that Drew had given me a cookbook compiled by his Kindergarten teacher of the favorite recipes of every student. So, that's why she needed my mac-n-cheese recipe.

Blake gave me an adorable flower pot with a "Blake flower" in it. The bottom was filled with Hershey Kisses. When I opened it, he said, "Mom, canneee. Want some." lol. Of course, he got some, too.

We went to Grandma and Grandpa V's house for lunch. The boys had fun, and Drew spent time playing in the garage. For some reason, this has been a mini-perseveration for him. It was pretty hectic there, so we allowed him the quietness of the garage, and the pleasure of opening and closing the side door. Ah, the simple things.

After this, we went to Grandma and Grandpa M's house. Blake fell asleep in the car and took a nap in the spare room. Drew again wanted to go outside. He realized that playing in the garage was fun earlier, and wanted to do it again. This worried several people present, because it was "not safe". But, I knew that Drew wouldn't go beyond the door. That is his obsession, man. We had KFC for supper, and went home after.