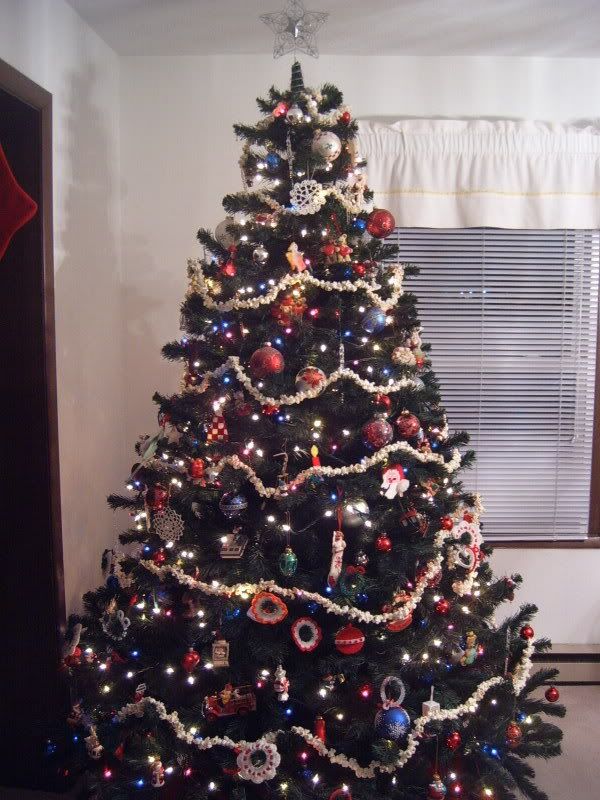 Our Christmas tree! We put it up last Monday, but didn't get the lights and decorations on until Sunday night. It was nice. We listened to Christmas music, and the boys helped. Blake put lots of ornaments on.(one on top of the other) He is partial to crocheted wreaths my late grandma made. He takes them off the tree and carries them around then goes and puts them back on. Drew loves the Hallmark "Santa's Answering Machine" ornament. You press the button and Santa says, "I'm out packing my sleigh right now. Be sure to leave your Christmas wishes. Wait for the jingle bells..." Drew wants to remove it and bring it to the couch where he can lean over it and hand flap and screech.



Look at that sweet boy sleeping. He cries and cries like he is scared when we put him to bed lately. I rocked him the other night, and this is how he fell asleep.



Woody has some big boots to fill. :)


Drew put my sweater on the other day, and said, "Look, it's like Mommy!" He also put a pair of my pants on, and had to hold them up. I didn't get a picture of that.


And, look at all those questionnaires! We are participating in a Fragile X study. I was supposed to have them returned within two weeks, and I am already past that time. They ask questions like, "Does your child have a hard time concentrating?" and "Does your child have a short attention span?" Hello? Where do they think he got it? I get so overwhelmed and have to stop for awhiile. I wish I could just sit down and get throgh them all. I think I have about half done. I think I'll try to finish them today.


See that book? Heaven by Randy Alcorn It is the best book I have ever read. I am serious. You must read it.

That is all.