Gloomy
Today is a gloomy day. We had thunderstorms all night, and we are still under a tornado watch. That means no playing outside today.
Apathetic
That is how I feel about the presidential election this year. I have always been interested in politics in the past, but I guess I am not well pleased with any of the candidates this time. And strangely, I just don't care that much. I know, I know. I should be more excited about exercising my civic duty to vote, but I really am not.
Delicious
The chocolate chuunk cookies I made the other day. They are ugly in that they are flat, but they are so soft and good.
1 cup butter flavored shortening
3/4 cup white sugar
3/4 cup brown sugar
2 eggs
2 teaspoons Mexican vanilla extract (I used regular)
2 1/4 cups all-purpose flour
1 teaspoon baking soda
1 teaspoon salt
2 cups milk chocolate chips (I chopped up Hershey Kisses)
Preheat oven to 350 degrees F. Grease cookie sheets. (I used a Silpat)
In a large bowl, cream together the butter flavored shortening, brown sugar and white sugar until light and fluffy. Add the eggs one at a time, beating well with each addition, then stir in the vanilla. Combine the flour, baking soda and salt; gradually stir into the creamed mixture. Finally, fold in the chocolate chips. Drop by rounded spoonfuls onto the prepared cookie sheets. Bake for 8 to 10 minutes in the preheated oven, until light brown. Allow cookies to cool on baking sheet for 5 minutes before removing to a wire rack to cool completely.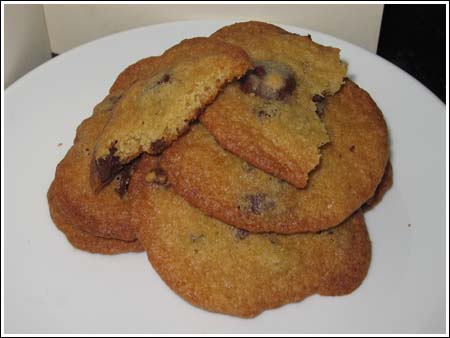 Inventive
That is Blake. I am constantly amused by what Blake comes up with to entertain himself. Something he has done recently, has been to pile some toys on his Aquadoodle Mat and pull it around the house, like he is pulling a sled. A lot of times it is dominoes that he pulls around. Today it was parts of his Thomas the Tank Engine train.
Perspective
I just came across this verse, and it really comforted me. Things have been a bit stressful with all the seizures Drew has been having lately.
When times are good, be happy;
but when times are bad, consider:
God has made the one as well as the other...
Ecclesiastes 7:14 (NIV)